R.I.P. Grandpa Munster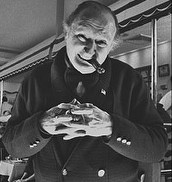 Via Boing Boing
.
Al Lewis, the actor who played Grandpa Munster and later became a political campaigner, TV host, and restauranteur, has died at 95.





Just two years short of his 90th birthday, a ponytailed Lewis ran as the Green Party candidate against incumbent Gov. George Pataki. Lewis campaigned against draconian drug laws and the death penalty, while going to court in a losing battle to have his name appear on the ballot as "Grandpa Al Lewis."



He didn't defeat Pataki, but managed to collect more 52,000 votes.